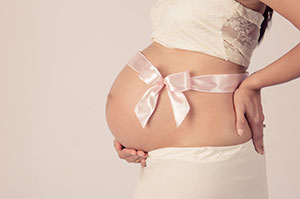 The pregnancy stage of a woman's life is one of the most hard and rewarding times you will go through. However, it should be documented and preserved for the generations to come. When your child looks at your maternity images, they will only see how pretty you are. Ericka only asks for an hour out of your day. After that, you can kick up your feet and eat Oreo's! She will make you feel beautiful throughout your entire session. Worried about skin discoloration or stretch marks? No worries! Our photo editor is amazing and she will wave her wand and make it disappear. We thank you for choosing Ericka Hamer Photography and feel honored to capture this special time in your life.
When Should I Schedule My Maternity Session?
We recommend scheduling your maternity photography session around 28-34 weeks. Every woman carries differently. So, we ask that you come in when you have a nice, round belly. This could be at 38 weeks for some women. However, there is no wrong time to photograph your pregnancy. Please come in when you feel the most beautiful and radiant. If you have any doubts, please call the studio and we can advise you the best time to schedule.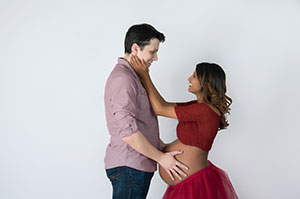 What Should I Wear?
The studio offers gorgeous gowns, outfits and fabric for the expecting mothers. So, you don't have to worry about clothing unless you want to. Ericka also suggests you to bring a few things from your closet. It helps us to personalize your session and make is especially meaningful. Every client receives a detailed guide of clothing suggestions via email after they book their session. Since we have worked with many pregnant mamas, she knows what looks best. By specializing in maternity photography, we are able to deliver gorgeous portraits to every client.
Where Will My Session Take Place?
Most of our maternity portraits are taken in the studio. During spring, summer and fall we offer outdoor or home photography sessions. We bring the clothing, props and lighting to you. There is a $100 travel fee to cover our time and expenses for on location sessions.
Can I Be Photographed With My Spouse And/Or Kids?
Absolutely! We highly recommend getting your spouse/partner and family involved in this special time. All of your lives will be changing with the new baby and it's important to document each stage as you change and grow as a family. There is nothing sweeter than your child kissing his mama's pregnant belly or your spouse and you creating a heart of love over your belly. These are the pictures you will cherish forever. With Ericka's style and creativity, the options are endless!